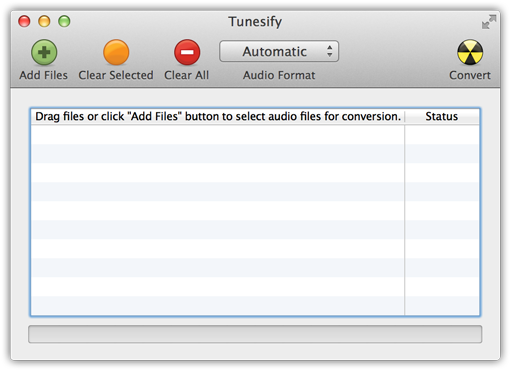 Tunesify is the simplest way to convert almost any audio file into formats supported by iTunes, iPods and iPhones. Tunesify can convert FLAC, Windows Media Audio, WavPack, Ogg Vorbis, Monkey's Audio and many more. Lossless formats, such as FLAC, can be converted to Apple Lossless, which preserves the true CD-quality sound. Files can also be converted to AAC, MP3 or WAV formats.
No knowledge of audio codecs or bitrates is necessary as an automatic mode takes all of the guesswork out of choosing your settings. Simply drag and drop audio files into Tunesify and click Convert. You can even convert music videos, such as those downloaded from YouTube, into audio files that will play on your Apple Device.
A free trial version of Tunesify, called Tunesify Lite, is available for download. The free version completely converts FLAC files and creates 30 second previews of all other audio formats supported by the full version of Tunesify.
Tunesify uses the Core Audio and LAME encoders in order to ensure the highest quality audio conversions.
Need to convert videos? Try Vidsify.